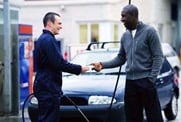 Maintaining your vehicle properly is the key to vehicle longevity, and our service departments are standing by to keep your car, truck or SUV running smoothly for years to come. Our highly-trained technicians will maximize your vehicle's performance. All service includes a multi-point vehicle inspection to identify developing problems so you can avoid future breakdowns. The Rosner Auto Group dealerships pre-rescues your car in the service bays so you don't get stranded on the highways!
Routine maintenance is key to getting the most value out of your vehicle - while owning and when reselling. The service and parts centers with the Rosner Auto Group stand by to make sure your car, van, truck, or SUV runs smoothly for years to come. From oil changes to transmission flushes, our highly-trained technicians put their years of experience to work to maximize your auto's performance. If you do experience an issue with the engine - whether it's a weird noise, a warning light, or an odd smell - our service team regularly use state-of-the-art equipment to diagnose the problem and get your vehicle back to its peak condition.
Each one of Rosner Auto Group's dealerships has a Parts Center stocked with an expansive inventory of official manufacturer parts. If you love tinkering on your automobiles, turn to one of the Rosner Parts Centers to get an original replacement part or accessory for a precise fit every time. In the rare event that we don't have what you need in stock, we are more than happy to order it for you.
The same quality care and superior service that goes into our Service and Parts Center also applies to the Rosner Collision Center in Fredericksburg, VA. Whether your auto has dents, scratches, or missing parts as a result of a collision, our paint and body experts will go to work to repair the damage and have you back on the road as shiny as new.
With eight dealerships in the Fredericksburg and Stafford, VA, area, you're sure to find a Rosner Service and Parts Center that will suit your needs. Take a look at our locations and feel free to contact us with any questions or concerns you have. Schedule your appointment by simply choosing a location and filling out the schedule service form on the website. We look forward to a long, friendly relationship with you and your Rosner automobile!